The Garmin G1000 NXi is the latest update of one of the most successful avionics systems ever created. The Garmin G1000 first entered the market in June of 2004, where it was delivered in a Diamond DA40. At the time, Garmin was becoming firmly established as leaders in GPS technology and was primarily focused on the piston aircraft market.
However, in November of 2007, they made a major step into the business aviation retrofit market when their STC for the King Air C90 series was approved. The retrofit was so successful that Garmin decided to seek STC approval for the King Air 200 series, which was approved in March of 2009, and then later the 300/350 in May of 2012. To date, the Garmin G1000 or G1000 NXi has been installed in more than 20,000 airplanes worldwide and nearly 700 King Airs. At Elliott Aviation, we've installed more Garmin G1000 and G1000 NXi systems in King Airs than all other dealers in the world combined. Find out more about our G1000 NXi installations here.
The Garmin G1000 NXi for the King Air is the most advanced flight deck available for the King Air. It combines zero-time avionics with new glass displays, smooth flight control, and HSI mapping. It enables WAAS/LPV approaches to thousands of airports with an autopilot-coupled glide path to selected minimums. Garmin's Connext™ connectivity also gives you voice calling, text messaging, and database and flight transfers to your mobile device.
At Elliott Aviation, not only do we have the most G1000 NXi experience, but we offer several advantages over other dealers. We offer a three-week guaranteed downtime on all standalone Garmin G1000 NXi installations. We also offer free ground familiarization with your new avionics using our in-house King Air G1000 NXi demonstrator. We also have free flight familiarization during your aircraft delivery. All of our installations also include an optional installation of our STC of the Mid-Continent MD302 LCD standby attitude module (SAM). The MD302 is a self-contained standby instrument that provides attitude, altitude, airspeed, and slip information. Our company is an Authorized Service Facility (ASF) for King Airs, and we have been working on King Airs since they rolled off the assembly line in 1964. Find out more about our King Air experience here. In addition to Garmin G1000 NXi upgrades for the King Air, we also offer G1000 NXi upgrades for the Phenom 100 and 300 as well as the TBM 850.
The Hardware
A retrofit of a Garmin G1000 NXi in a King Air requires a complete replacement of the existing avionics suite. All new hardware is installed in the airplane, including an all-new autopilot. In addition, all of the existing cockpit wiring is replaced in the airplane from nose to tail. At Elliott Aviation, when we complete a Garmin G1000 NXi retrofit in a King Air, a customer will receive the following hardware upgrades:
All-new metal instrument panel

Dual integrated radio modules, providing WAAS-certified GPS, VHF navigation with ILS, and VHF communication with 16-watt transceivers and 25 kHz or 8.33 kHz channel spacing (GIA 64E)

Dual Mode-S transponders with ADS-B out and in (GTX 335R and GTX 345R)

Dual solid-state attitude and heading reference and solid-state air data computer all-in-one (GSU 75B)

Three-axis digital Automatic Flight Control System (GFC 700)

Four-color digital weather radar with stabilization (GWX 75)

Integrated Class-B TAWS terrain alerting with worldwide terrain and U.S. database

SXM Satellite Radio datalink receiver (GDL 69A)

Large-format LCDs – 10-inch PFD's; 15-inch MFD

RVSM airframe certification

Standby instrument package
Unbeatable Features at Every Level
All of these hardware upgrades and modifications add up to one of the most feature-rich avionics suites on the market. The features of the legacy G1000 and the Garmin G1000 NXi include improvements for safer flight operations, better situational awareness, reduced pilot workload, and even entertainment. As pioneers of cutting-edge technologies like synthetic vision and mobile connectivity, Garmin's features for the G1000 NXi beat any other competitive King Air avionics suite on the market.
Features fROm the Original Garmin G1000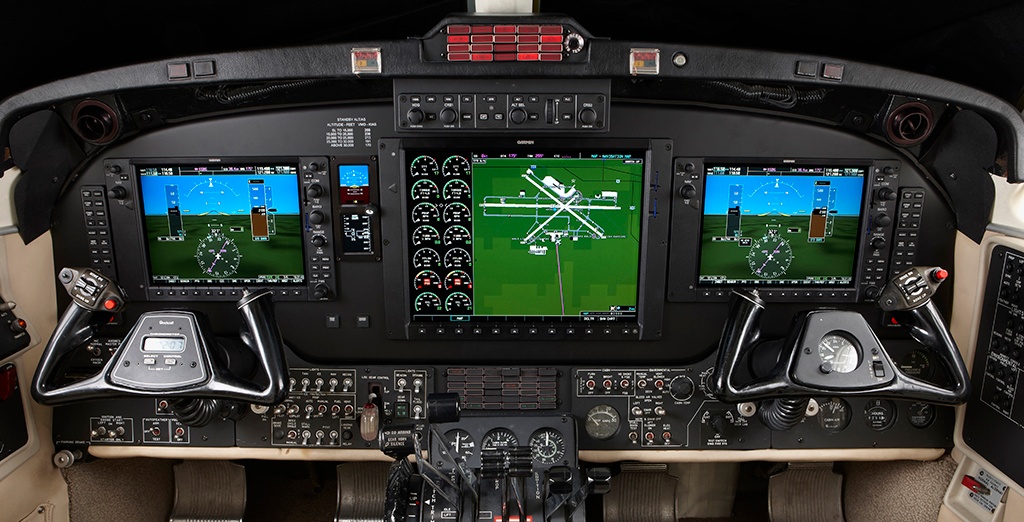 While the Garmin G1000 NXi has all of these features and more, the original Garmin G1000 features:
Fully integrated CNI suite with dual WAAS-certified GPS

All-digital, dual-channel Garmin flight control system

Ethernet data-bus connectivity

Moving-map MFD with engine/fuel gauge cluster, checklist capability

16-watt VHF comm transceivers with 25-kHz or 8.33-kHz channel spacing

Garmin SafeTaxi™ airport diagrams

Class-B TAWS alerting, worldwide terrain, and U.S. obstacle database

Modular rack-mounted LRU's

Interfaced for traffic and lightning sensors

Onboard digital four-color weather radar

XM WX satellite weather and XM radio input

Pilot/Copilot audio system with XM radio input

Passenger audio system with intercom

Full reversionary display capability

Training simulator software
In January of 2017, the STC for the G1000 NXi was issued for the King Air 200 series. In addition to the 200 series, the G1000 NXi upgrade is now available for the King Air C90/300/350 series airplanes. The G1000 NXi replaces the legacy G1000 system for new installations. For existing legacy G1000 systems, operators can upgrade in as little as two days.
The Garmin G1000 NXi Has the Following Upgraded Features Over the Standard G1000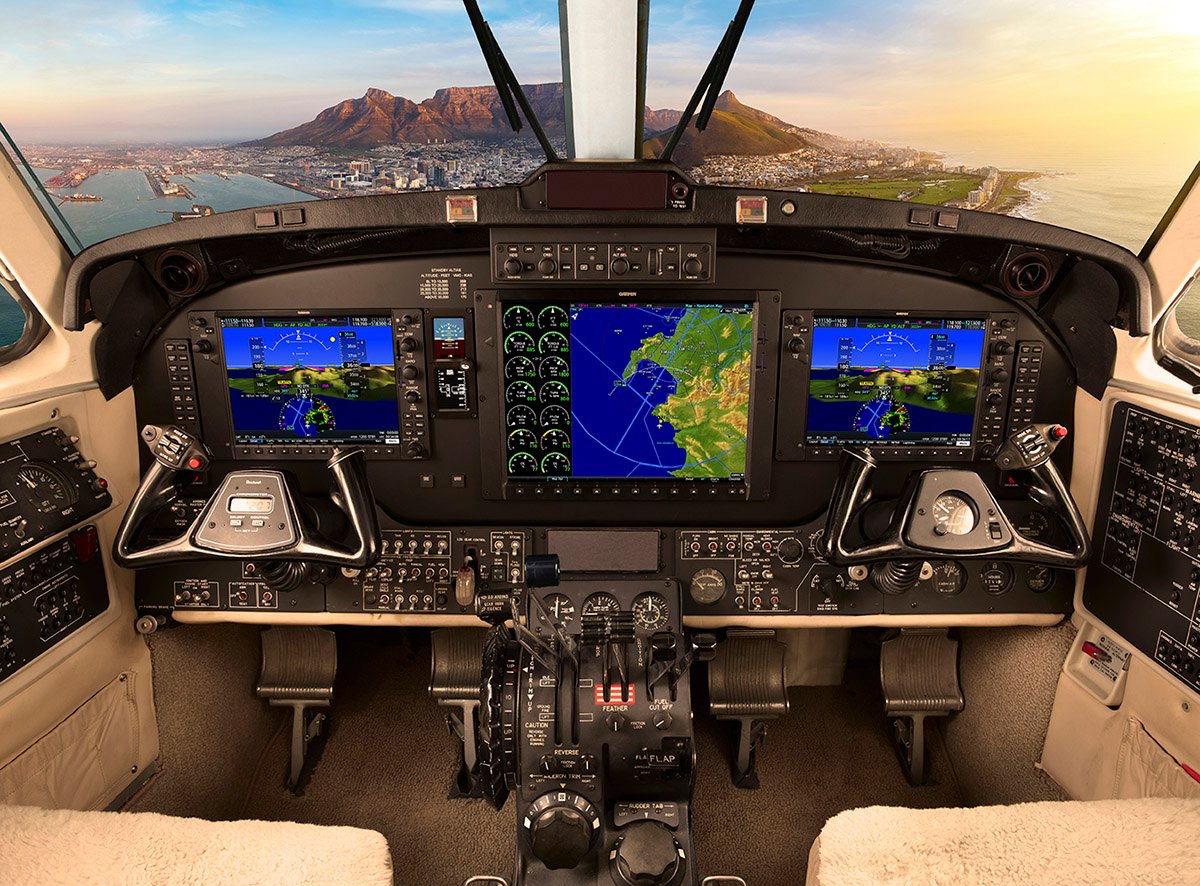 Displays initialize within seconds after start-up, less than 10 seconds

Faster, modern processing power that supports faster map rendering and smoother panning throughout the displays

Improved readability with new LED backlighting, increased display brightness as well as improved dimming performance

Enables simpler and faster replacement of LRUs

Automatically loads correct software and configuration to replacement unit

Takes installed options into account

Reduces need to reload entire system software and configuration when a unit is replaced

Unique fleet and configuration IDs ensure the correct aircraft configuration is loaded

Higher resolution 15" MFD

Optional Flight Stream 510, which enables Database Concierge, wireless transfer of aviation databases from the Garmin Pilot app

FS 510 supports two-way flight plan transfer

Pilots can now select visual approaches that will provide vertical guidance based on a 3-degree glideslope. Pilots can intercept and fly a visual approach coupled to the autopilot.

Weather radar overlay on moving map (MFD)

Supports ADS-B In (FIS-B) and Garmin's patent TargetTrend technology (this feature is not available when TCAS II is installed with the G1000 suite)

Surface Watch Runway Monitoring Technology.

COMM frequency identification

Display of VFR and IFR sectional charts

Animated SXM weather

Vertical Situation Display (VSD) incorporates terrain profile view on the MFD, taking into consideration the active flight plan, altitude constraints, and winds aloft

HSI Map Overlay on PFD supports display of:

Weather Radar

FIS-B Weather (this feature is not available when TCAS II is installed with the G1000 suite)

SafeTaxi

Relative Terrain

Sirius XM Weather

New three-color terrain shading with improved contouring

Green-2,000 FT

Yellow-1,000 FT

Red-100 FT
Select G1000 NXi Features In-Depth
Flight Control System
The Garmin G1000 NXi features the GFC™ 700 Automatic Flight Control System (AFCS). This is a fully digital, three-axis, dual-channel, fail-passive autopilot. This autopilot allows you to fly full class 3 WAAS/LPV glide path approaches down to comparable minimums of an ILS approach. The Garmin G1000 NXi also has the capability for a visual approach, which has a three-degree autopilot that is coupled with a vertical flight path down to your selected minimums. The flexibility of the GFC™ 700 AFCS gives you more options to fly and land your aircraft.
Electronic Stability and Protection
Garmin ESP™ (Electronic Stability and Protection) is a feature of the Garmin G1000 NXi that gives you assistance when you are hand-flying your airplane. Garmin ESP™ helps to prevent loss of control during flight by giving a gentle correction to the yoke when it detects excessive roll or pitch by utilizing the autopilot servos. Garmin ESP™ also provides coupled go-around capabilities and under-speed protection (USP).
Synthetic Vision
One of the most popular options of the Garmin G1000 NXi is Garmin's exclusive SVT™ synthetic vision technology. Garmin's SVT™ is like having a picture-perfect view even in the most difficult IFR or VFR conditions. Having this feature gives you a 3D view of the PFD of the landscape and terrain. It also shows obstacles, datalink weather and/or onboard radar overlays, flight plan routes, airports, traffic targets, SafeTaxi diagrams, and more.
In addition, utilizing the U.S. obstacles database, the G1000 NXi displays color-coded terrain alerting when you encounter proximity conflicts. The system comes with Class-B Terrain Awareness and Warning System (TAWS) or, depending on the type of airplane, an optional Class-A TAWS for extra safety.
HSI Mapping in the Primary Flight Display
The Garmin G1000 NXi gives you HSI mapping perspectives that you would only typically see in an MFD in the HSI section of your PFD. This can help you better visualize en route and nearby flight navigation features.
SafeTaxi & SurfaceWatch™ Runway Monitoring
SafeTaxi is a safety feature that helps you monitor your location in unfamiliar airports. It has a database of airports in the US, Canada, Europe, and Brazil. It shows your airplane position on the field along with all of the taxiways, intersections, and hot spots to help keep you safe on the ground.
SurfaceWatch™ makes your SafeTaxi even better by adding TerminalTraffic™, which allows surveillance of all aircraft equipped with ADS-B and all vehicles within the airport. It also allows for runway identification and alerting. This can help provide safer operations to avoid taking off or landing on the wrong runway, takeoff on a taxiway or using a runway that is too short.
Electronic Charts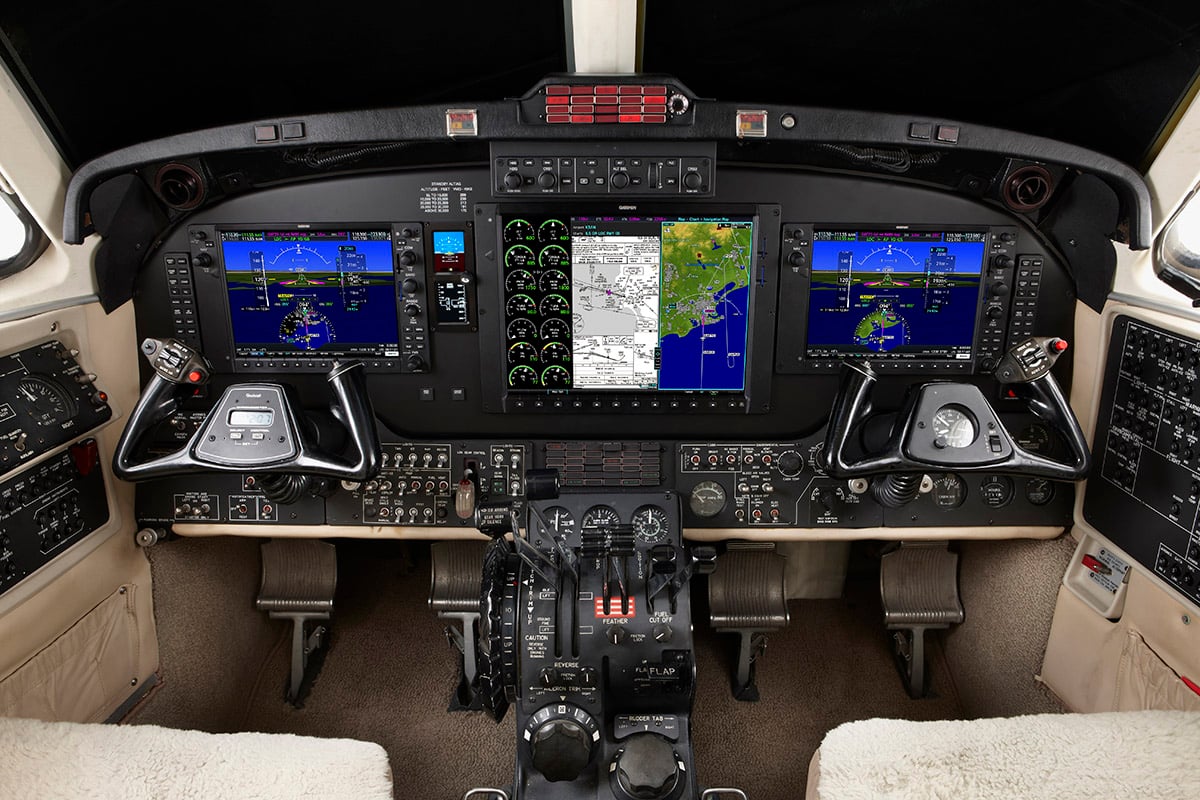 The Garmin G1000 NXi has built-in electronic FliteCharts® to include approach plates and terminal procedures for thousands of airports. Jeppesen's ChartView™ electronic charts are also available as an option for the G1000 NXi system. Standard departures and arrivals are provided with your choice of georeferenced IFR or VFT Sectional en route mapping. The upgraded NXi also added an MFD split-screen view to show maps, checklists, flight plans, charts, and more on a single screen.
Traffic, Weather, and More With ADS-B in
In addition to providing ADS-B out, the Garmin G1000 NXi gives you ADS-B in to give you advanced traffic displays to include TerminalTraffic and TargetTrend™, as well as subscription-free weather. Garmin's GWX™ 75 Doppler-capable color weather radar provides scanning profiles for accurate weather profiles. There are also options like ground clutter suppression and turbulence detection for safer and smoother flights. To receive satellite-link weather throughout most of Europe, Canada, and the US, you can choose an optional Garmin Connext® satellite link high-resolution radar imagery.
For North American operators, through the standard GDL® 69A data link receiver, you can also choose an optional SiriusXM weather to be overlaid on the moving map and on the HSI of the PFD. A subscription to SiriusXM gives you NEXRAD images, lightning, winds, METARs, TFRs, TAFs, and more. You can also choose for NEXRAD images to be animated to monitor changing conditions.
Monitor and Log Engine Data
The Garmin G1000 NXi automatically monitors and logs engine data to include trends and exceedance analysis. This data can be used to help identify performance issues early to avoid costly longer-term repairs.
Wireless Cockpit Connectivity with Garmin Connext®
In conjunction with the Garmin Pilot™ app, using Garmin's Connext® and an optional Flight Stream 510, pilots can stream information in real-time between the Garmin G1000 NXi and your mobile device. This option can help you interface the cockpit with the continual streaming of traffic, weather, attitude information, and more. It also enables flight plan transfer and Database Concierge wireless database transfer.

ADS-B in information like weather, traffic, GPS, and attitude, as well as flight plan transfer, are also available with Garmin Connext® for mobile devices that are using ForeFlight. If you have a subscription to SiriusXM® audio, Garmin's Connext® feature will allow you to control channel selection from any seat on the aircraft wirelessly. The Garmin G1000 NXi also has an option for a Bluetooth-enabled audio panel. This allows both the pilots and passengers to connect a mobile device to stream audio or to make and receive phone calls.
Weight Savings
One of the most functional benefits that many King Air operators find when they decide to upgrade to the Garmin G1000 NXi is substantial weight savings. While typical King Air operators can expect a weight savings of around 200 pounds, we have seen weight savings of up to 400 pounds in extreme cases. The weight savings that operators realize comes from replacing all of the old avionics boxes, heavy CRT displays, and all of the heavy old wiring that runs the length of the airplane. This weight savings translates to a greater useful load to carry more fuel, passengers, or luggage.
Final Thoughts
When it was first introduced, the Garmin G1000 revolutionized the aviation industry. The major advancements that Garmin made have made flying safer and more reliable for thousands of pilots around the world. Their easy-to-use products and relentless pursuit of evolving their product continue to keep them positioned as the top option for many different aircraft types. At Elliott Aviation, the Garmin G1000 NXi for the King Air continues to be the most requested avionics retrofit. For most King Air operators, its unbeatable features make it the best solution for their aircraft.