Although aircraft equipped with an air medical interior have a highly specific layout and design, most fixed-wing air medical aircraft were originally equipped with an executive layout and tailoring. Transitioning from an executive configuration to a medical interior involves several factors, including selecting the right aircraft, considering cabin layout, evaluating cabin functionality, and choosing the right upgrades. Although it can seem like a difficult process, a firm understanding of your needs and proper planning can greatly reduce the cost and downtime of converting an aircraft.
Selecting an Aircraft
Beginning your selection process could start with popular air medical airframes. Although many aircraft can be successfully converted to an air medical interior, some popular options include the King Air 200 series, King Air 350, Beechjet 400A/Hawker 400XP, and the Citation Encore, as well as include Lear, Pilatus, Hawker 800XP).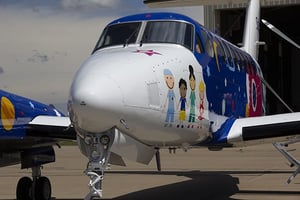 As with any mission analysis, an aircraft operator should fully evaluate range, speed, and operating costs as a baseline to understanding how an aircraft can meet your mission. When analyzing an aircraft specifically used for medical transport, further analysis should be done to fully understand how this aircraft will fit your needs. For instance, most medical aircraft require additional equipment and can be close to weight limits. The number of medical professionals required for any given transport needs to be determined. For these instances, make sure you understand the difference between the max range and the range of the aircraft at maximum weight. In addition to examining standard specifications like cabin volume, you will need to understand how your cabin layout and medical equipment requirements will fit safely in your given aircraft cabin.
Cabin Layout and Installation
When assessing the interior of any potential aircraft, developing a plan and fully addressing your needs from the beginning with your service center can save you a lot of time and money. For example, are you going to need one med base or two? Do you have any special needs like securing medical equipment during flight? How many seats will you need, and where will you need them to be located? What functions may be required from these seating positions? Will you need options for the aircraft to convert from an executive interior to a medical interior with short notice? Fully understanding your needs can help guide you to not only the right aircraft but the right interior configuration.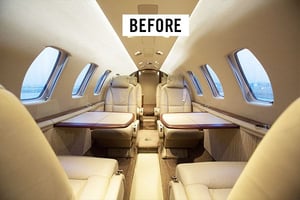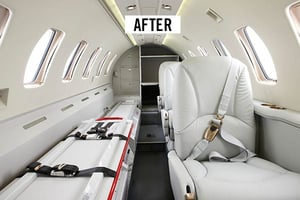 Many air medical components can have long lead times, so planning them in advance of aircraft arrival can save you additional downtime and cost. Items like medical devices themselves, various mission-specific seat frames, and potential fire blocking can take several weeks to be returned from a vendor, but these items can all be planned ahead of your project to ensure your interior is ready for modification upon arrival. For many popular aircraft, there are pre-approved floor plans available from OEM's or by a medical base provider like Spectrum or Lifeport. If no pre-approved floor plan currently exists, a solution can be available; it just presents its own set of challenges that would require further investigation for its approval path. Gaining approval via FAA Form 337 Field Approval is the less time-consuming and costly route. If that's not possible, then you may require an STC for a floor plan change which could add months and tens of thousands of dollars to complete.
Cabin Functionality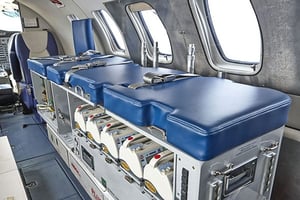 Once you have determined the layout, you can start selecting materials for the cabin. For air medical tailoring, you will want all surfaces to be easily sanitized and cleaned. We typically recommend laminate for the cabinetry and a vinyl of some sort for soft goods. Regarding flooring, most air medical aircraft are equipped with heavy-duty lon coin flooring. Other more porous materials can greatly impact the sanitary needs from one patient to another, the durability and longevity of your interior. Several operators also wish to install customized cabinetry to store additional equipment, possibly even across a fleet, so the operators have uniformity. There are also a few items that often get overlooked when planning a functional air medical cabin. Many medical operators need to have greater communication from the passengers to the pilots. Communication systems can be installed to ensure better communication throughout the cabin. Even small items can make a difference. Depending on the layout, the installation of a med base could make the location of reading light switches awkward or near impossible, requiring reaching over a patient to activate the light. These switches can be relocated and/or upgraded to allow for more efficient operation. In some instances, you can even equip your aircraft to be interchangeable between an executive configuration and an air medical configuration. This type of convertible interior can include removable flooring, quick-release cabinetry, and/or seating.
Selecting Upgrades
Depending on the aircraft, upgrades may be available to better suit your mission. These could include items that affect the performance of the aircraft, like range and weight, or they could impact the functionality of the interior. Performance upgrades might include extended-range fuel tanks, winglets, gross weight increases, or more powerful or efficient engines. Functional upgrades could include insulation kits to decrease noise or assist with stabilizing temperature, baggage modifications, and door modifications to allow for larger cargo. You could even consider WiFi for better communication to the ground or even as entertainment for stable patients.
In Summary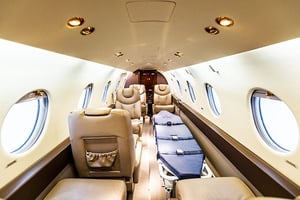 When selecting the particular airframe, you'll wish to utilize, make sure to keep your options open. Your preferred modification facility can guide you through converting a floorplan from an executive interior to an air medical interior. Every make and model of aircraft will pose their own unique challenges. By spending time planning your short-term and long-term goals with your modification facility, you can have a better plan for your air medical conversion. Make sure to identify major items such as desired layout and any long-lead time items like seat frames, possible STC's, and any special materials. In addition, if you are operating an aircraft for a third party, like contracting charter flights for a hospital, make sure to get them involved so everyone's final expectations may be met. It is equally important to involve the aircraft crew for a full analysis of the functionality of your conversion. This analysis should include patient safety considerations and even an evaluation of performing simple tasks. In some cases, upgrades can serve a functional purpose. LED lighting can lead to greater visibility and comfort in the cabin. Dimmable windows can help make a stabilized transport more comfortable and can easily be cleaned, unlike a fabric shade. A sound dampening insulation package with thermal properties can help with patient comfort. With all of these considerations, your modification facility can guide you to a proper air medical conversion.
About the Author
Adam Doyle joined Elliott Aviation in 2000 as an Interior Technician after graduating from Wyoming Technical Institute. While at Elliott Aviation, Adam has earned many different promotions on the shop floor, including Install Team Lead, Soft Goods Team Lead, Assistant Interior Shop Manager, and Seat Shop Manager. As Paint and Interior Sales Manager, he uses his experience with various vendors, products, and processes to educate our clients and provide direction to plan for future installations with realistic and accurate figures.