By Meghan Welch
The interior team at Elliott Aviation has been transforming business aircraft for nearly 20 years. We've completed hundreds of aircraft interiors, from simple seat refurbishments to the most complicated cabin floor plan changes for aircraft from around the world. After the design session, our aircraft interior refurbishments are carried into a four-stage process.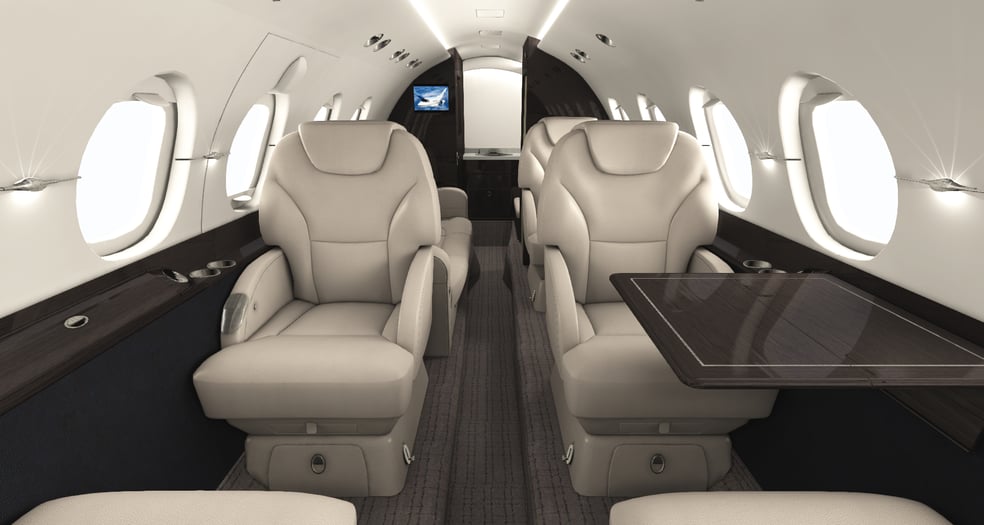 The Aircraft Interior Design Process
The design session of an aircraft interior refurbishment is a fun and highly collaborative experience that involves sessions to get to know the aircraft operator's personality. We work with the customers to gain an understanding of their favorite color combinations and preferred fabrics and leathers. During this process, we often request pictures of their favorite home furnishings or personal vehicles. We also find out their personal preferences in flight in regards to cabinetry functionality. These steps are done to design a custom interior that fits both their functional needs and personality.
Design sessions can be completed at Elliott Aviation's headquarters in Moline, IL, or remotely. Find out more about the design process or view our galleries here.
The Aircraft Interior Refurbishment Process
At Elliott Aviation, a major aircraft interior refurbishment happens in a four-stage process.
The first stage of an aircraft interior refurbishment includes an incoming evaluation of the aircraft. Our quality control and aircraft interior shop teams inspect the aircraft interior for any incoming damage, scratches, or other areas of concern. Our team archives photos for reference.
The second stage includes the removal of the existing aircraft interior. All seats, soft goods, cabinets, carpet, headliners, window panels, lower sidewalls, and any other interior components are removed by the removal and reinstallation team. The components are then transported to their respective shop to begin the transformation.
The third stage involves refurbishing the aircraft interior components in the soft goods and cabinetry shops. During a soft goods refurbishment, components are disassembled and stripped of the existing materials and rebuilt to design specifications. During this process, our team works with the customer to verify the design, functionality, and any potential upgrades to update components for a newer design. Any changes will be completed with our in-house engineering and production teams and built or modified accordingly.
Depending on what options are selected, the refurbishment of cabinetry could include either new veneer or new laminate. During this process, the design team works with the customer to verify cabinet functionality. As with soft goods, any changes will be completed in conjunction with our in-house engineering team and built or modified accordingly.
The final stage of an aircraft interior refurbishment includes the reinstallation of the aircraft's interior. Once the new interior is installed, it is cleaned and detailed for customer delivery.
View the Entire Process in This Time-Lapse Video
What's the Downtime?
The typical downtime for a complete stand-alone aircraft interior refurbishment, to include full soft goods and cabinets, is approximately 6-8 weeks, depending on the complexity of any modifications and the size of the aircraft. If other services are needed, like aircraft paint, avionics, or maintenance, this downtime can be longer. Since an aircraft interior is such a large work scope, it is important to schedule early so that you are guaranteed availability, and there are no delays with materials.
Special Considerations
Floor plan changes require special considerations that can take extra time. Approving floor plan changes can be done by purchasing an existing STC or possibly filing FAA form 337 Field Approval. Unapproved floor plan changes can require creating an entirely new STC or having sufficient engineering-approved data to file a 337. Some common examples of projects we have led in the past include executive configurations changing to air medical interiors, moving the location of a lavatory, and changing the seating configuration in conjunction with custom cabinetry.
In addition to soft goods and cabinets, installing a new aircraft interior could include several upgrades like WiFi or Prizm LED lighting.
Wrapping Up
When completing a major aircraft interior refurbishment, having an overview of the entire process can help you understand the level of detail that is involved in designing, planning, and fabricating a gorgeous and functional aircraft interior. Contact us for your next quote.
Author Bio
Meghan Welch joined Elliott Aviation in 1998 as an Aircraft Sales Assistant, subsequently helping build the paint and interior sales and design department. She was promoted to Interior Sales and Design Manager in 2015 and later to Director of Paint and Interior Sales in 2016.