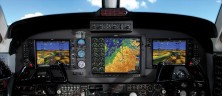 Moline, IL January 22, 2015 - Elliott Aviation, the worldwide leader in King Air Garmin G1000 retrofits and authorized King Air service center, has now increased the downtime guarantee for G1000 installations to $3,000 a day. With experienced gained by doing over 150 King Air G1000 installations Elliott has perfected and streamlined the installation. This provides Elliott the confidence of a 15 working day guarantee and assurance to the aircraft owner the installation will be done on time.
This follows Garmin's recent announcement offering rebates of $50,000 to owners and operators of King Air C90, 200/B200, 300 and 350 who upgrade their factory installed Pro Line 21 avionics system to the G1000 system before May 29, 2015. Those with other avionics systems who upgrade prior to May 29, 2015 will receive $25,000.
Elliott Aviation's success with the King Air Garmin G1000 program has made it the most successful complete avionics retrofit program in the history of aviation, in which they have done more G1000 retrofits than all other dealers in the world combined.
The G1000 will replace an entire avionics package in a King Air and can increase useful load by an average of 250 pounds. The system incorporates graphical weather, synthetic vision, traffic, terrain and other avoidance systems into a simple three-panel display unit.
"By providing the best Garmin G1000 installations for King Air owners, our nearly 40 highly trained avionics technicians have created satisfied customers from all over the world," said Mark Wilken, Avionics Sales Director. "Being one of the largest avionics shops in the world allows everything be done in house so we can confidently ensure the quality and timely process."
About Elliott Aviation:
Elliott Aviation is a second-generation, family-owned business aviation company offering a complete menu of high quality products and services including aircraft sales, avionics service & installations, aircraft maintenance, accessory repair & overhaul, paint and interior, charter and aircraft management. Serving the business aviation industry nationally and internationally, they have facilities in Moline, IL, Des Moines, IA, and Minneapolis, MN. The company is a member of the Pinnacle Air Network, National Business Aviation Association (NBAA), National Air Transportation Association (NATA), and National Aircraft Resale Association (NARA). More information can be found at www.elliottaviation.com.