Moline, Illinois, August 3, 2022 – Elliott Aviation has completed the retrofit of HomeSafe™ emergency autoland systems on TBM 940 very fast turboprop aircraft that were delivered in the U.S. market during 2019/2020 prior to airworthiness certification of this functionality.
The 29 TBM 940s had been sold in the U.S. with HomeSafe™ included as part of the original system/equipment list, and the post-delivery installation work was performed by Elliott Aviation at its Moline, Illinois facility. Additional installations for aircraft on which HomeSafe™ was offered as a subsequent upgrade will be completed later this year, as approved by the individual TBM 940 owners.
"Partnering closely with Daher from the very beginning, the Elliott Aviation team of technicians did a great job of planning and executing the installation program," said Greg Sahr, Elliott Aviation's President and CEO. "We knew the timeline was going to be a push, but the joint effort with Daher allowed us to complete the program as scheduled."
HomeSafe™ is based on Garmin's emergency autoland technology and was tailored to the TBM 940 by Daher's Aircraft Division. It brings the TBM 940 to a runway touchdown if the pilot becomes incapacitated. When activated, the HomeSafe™ software integrates weather and terrain information to select the best airport for landing – taking into account fuel range and runway length. The system provides inputs to the aircraft's flight controls and adjusts engine power settings through the touchdown phase. During the landing rollout, HomeSafe™ simultaneously activates the landing gear brakes and shuts down the engine.
"This retrofit program's seamless execution resulted from the expertise and capabilities of Elliott Aviation, backed by its close cooperation with Daher – as well as our coordination with TBM distributors and owners," said Raphael Maitre, the Vice President of Customer Support for Daher's Aircraft Division.
The HomeSafe™ autoland system's retrofit involves such tasks as modification of the aircraft's braking system; along with wiring changes and integration of electrical relays to enable automatic activation of the flaps, landing gear, and landing lights. A fuel shut-off valve is added to stop the engine by cutting off the fuel supply, while the cockpit's glareshield is modified to include the HomeSafe™ activation button.
Elliott Aviation has been a TBM Authorized Service Center since 2005 and is a leading aftermarket dealer for Garmin.
In addition to the HomeSafe™ retrofits carried out on TBM 940s by Elliott Aviation in the U.S. – which is the single largest market for TBM family aircraft – Daher performed this work on airplanes from the rest of the world at its Tarbes, France headquarters and factory location.
For Daher's new TBM 960 version, which succeeds the TBM 940, all aircraft are delivered with the HomeSafe™ emergency autoland system factory installed.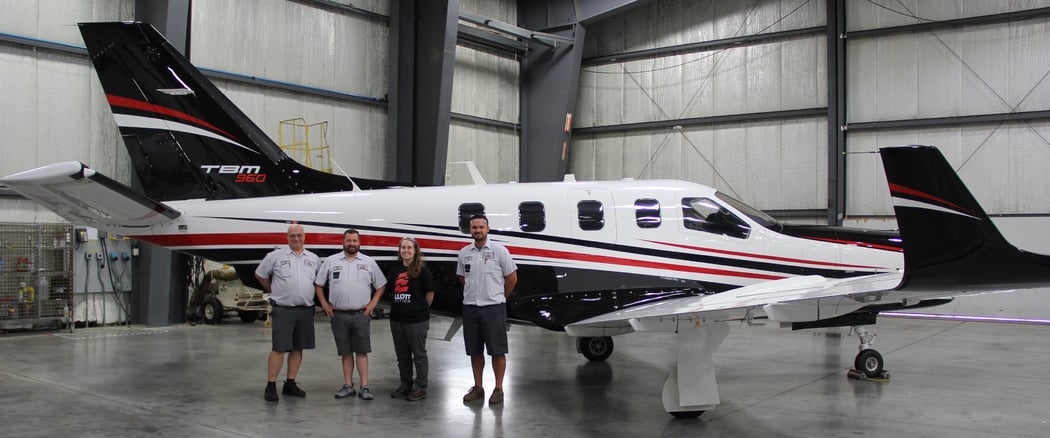 Photo: Elliott Aviation's HomeSafe team. Pictured (L to R): Larry Cawiezell, Chris Helms, Kailey Abbey, and Jacob Etzel. Team members not pictured include Kyle Krieg, Kerry Olson, Casey Moore, and Paul Schmidt.
About Elliott Aviation - www.elliottaviation.com
Elliott Aviation has been developing and delivering aviation solutions to their partners for 85 years. As one of the longest-standing companies in aviation, they offer a complete menu of high-quality products and services, including aircraft sales (as Elliott Jets), avionics service & installations, aircraft maintenance, accessory repair & overhaul, paint & interior. Serving the business aviation industry nationally and internationally, they have facilities in Moline, IL, Des Moines, IA, Minneapolis, MN, and Atlanta, GA. The company is a member of the Pinnacle Air Network, National Business Aviation Association (NBAA), National Air Transportation Association (NATA), and the International Aircraft Dealers Association (IADA).
About Daher - www.daher.com
Daher is an aircraft manufacturer and an industry and service equipment supplier. Daher asserts its leadership in three main businesses: aircraft manufacturing, aerospace equipment and systems, logistics and supply chain services; and achieved a turnover of 1.2 billion euros in 2021. With the stability provided by its family ownership, Daher has been committed to innovation since its creation in 1863. Today, present in 13 countries, Daher is a leader in Industry 4.0, designing and developing value-added solutions for its industrial partners.
###